Your guide to how it all works
The CRFweb
EDC Process
CRFWeb: EDC for Clinical Trials
CRFweb's EDC clincial trial database enables you to take control of your study. The CRFweb HTML Editor suite is easy to use and intuitive. Designed to have the look, feel and functionality of typical office software suites, CRFweb's EDC application gives instant familiarity. Only rudimentary training is required to understand the process. It's genuinely DIY, but our customer support team is available to design the study if required or assist you when designing your own.
This section pertains to the process for producing an eCRF through our electronic data capture process, though the principles are the same for both eDIARY and ePRO, with just some minor design set-up amends and the method of capture varying.
Here's how the entire EDC process works:
Design the eCRF
Capture data
Manage Data
Report
Design an
eCRF
Just click on the 'create new CRF' icon to get up and running. This takes you through the logical steps to create your study. After entering the basic study information, you can design the page layout using simple office style formatting, or HTML coding if you desire.
Study design
Next you add and edit the key components of your EDC study (eg. Medicine log or incident log) from our CRF log. The system structures all interview questions on a visit by visit basis, so the next step is to set up and design those visits. All questions related to a specific visit to the subject are set here and can be grouped into multiple sections to accommodate complex or multiple questions as appropriate. You can create your own questions or add them from a template or question bank. The system now offers multi-language capability, which can be set at the design stage.
Once your first CRF has been set up, you can use it as a template for future work and edit as required.
Defining access roles
CRFweb follows a dynamic approach to role-based access controls. You determine the number of roles and their defined capabilities when setting up a study; common default roles, such as Investigator, Data Manager, Monitor will be in your company settings, however, you can rename, add and define roles to meet studies specific needs and ensure all those involved in the process have the correct access and authority for the EDC process.
All roles that have active participation in a CRF are assigned to that particular CRF, while system-wide users can have for example a 'view reports only' access not assigned to specific CRFs. Individual users can also have multiple roles within their profile as required. In short, you have complete control of who has access to what thoughout the whole clinical trial process.
Capture
Data
Once you have your CRF set up, both you and your investigators will be able to input data according to the designated access levels you've assigned. All users can access from desktop, laptop or tablet as required.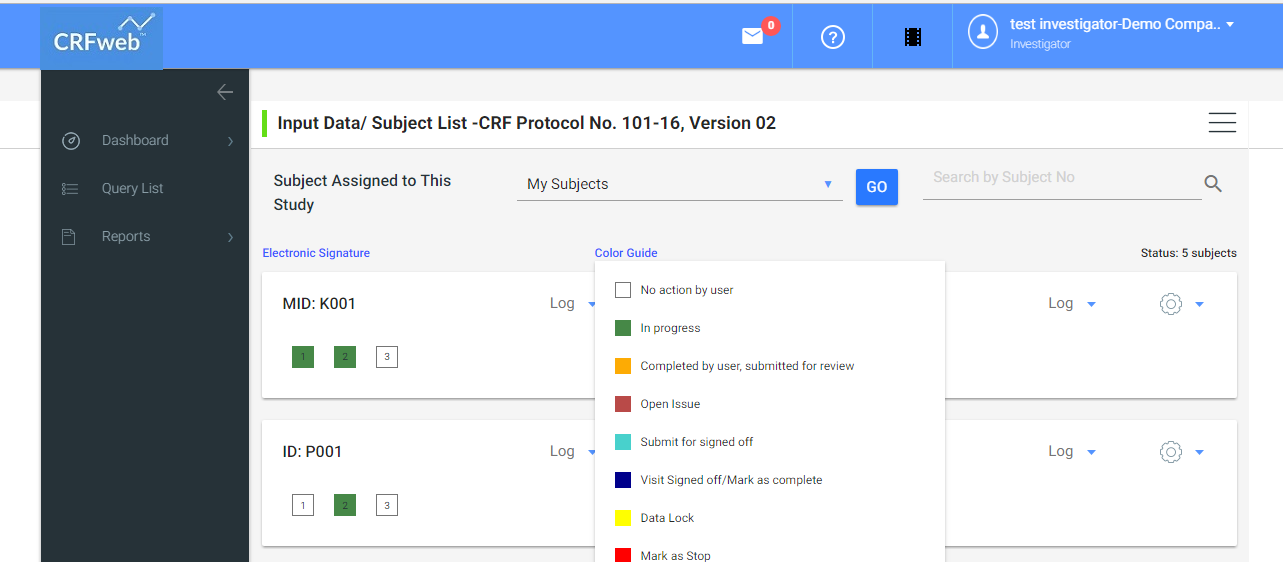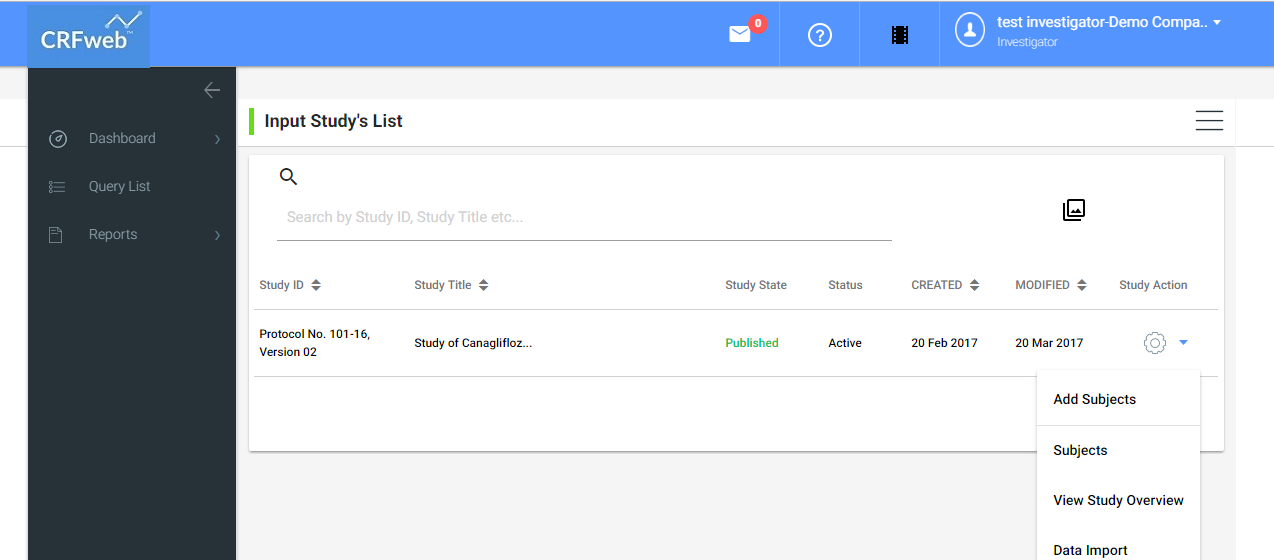 The data capture element within CRFweb EDC application for clinical trials is a simple process. Everything is ergonomically designed for ease of use. From the dashboard, just click on the 'input data to a CRF' icon and away you go. It's just one click to the main areas of the process and one click back again. Users are taken through a step by step process for data entry and you can save and review saved work as you go.
Add a new subject
You can add a new subject here and/or allocate a subject to a CRF. The Colour-coded process bar gives each user a clear overview of each subject's status within a study. When with a subject, the investigator simply goes to the appropriate visit and all the information required, and questions to ask, are simply and clearly laid out.
In the example here we can see the the subjects, ID, and number of visits (in this case 3) with colour coded status.
This overview screen offers 1-click access to each section e.g. visit, related CRF Log (for example, Serious Event Log, Medication Log etc…) and Actions.
The Actions drop-down offers reporting and subject related information.
Managing &
Reporting
Critical in any EDC application for clinical trials is the ability to monitor progress and troubleshoot. Query List, the dedicated query management and resolution tool, enables different roles/users to troubleshoot queried data within their security level. Data Managers and monitors can analyze data input once entered, raise an issue log to query questions or groups of questions, filter queries to meet specific requirements and audit via issue reports.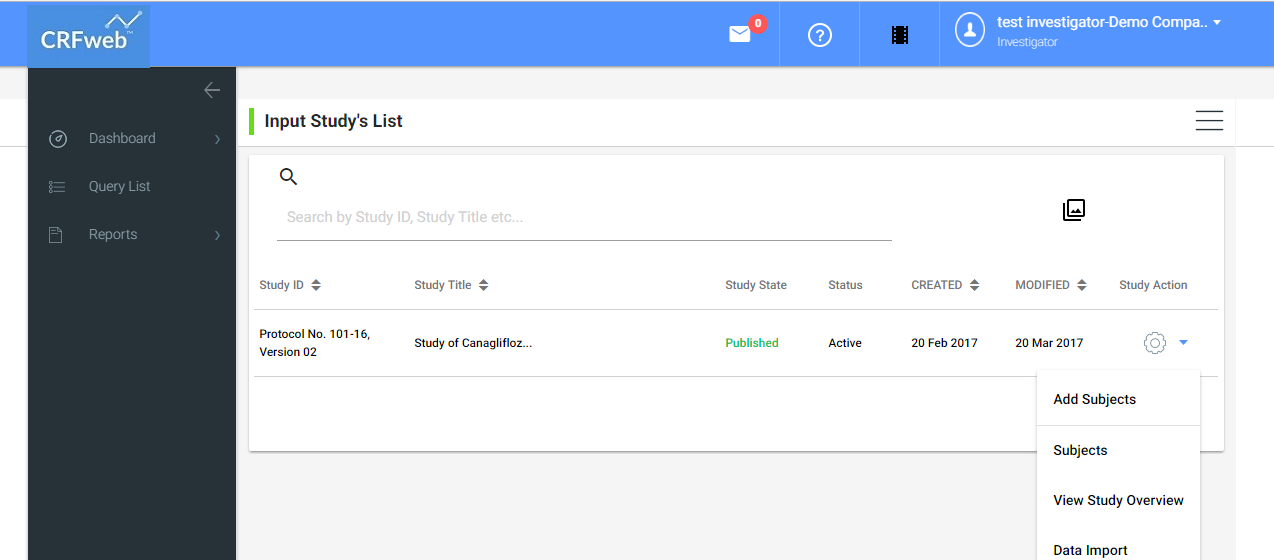 Articles
Client's View